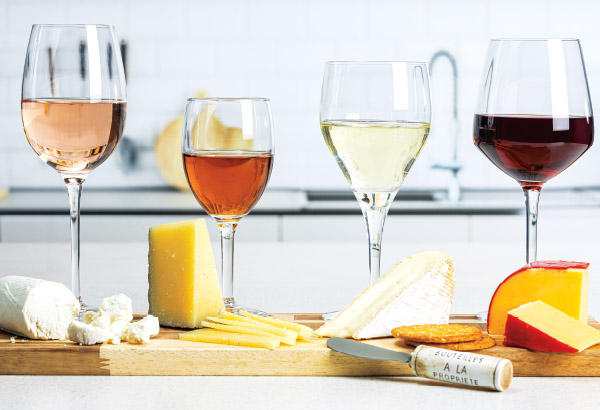 Holiday Wine & Cheese Pairings

Nothing satisfies quite like the delectable duo of wine and cheese. Use our pairing guide to mix and match wine and cheese varieties for delicious bites and sips that make your taste buds sing. At Busch's, we have a variety of fresh, hand-cut cheeses ranging in textures, flavors, colors and shapes that make enticing choices for casual, intimate settings, as well as special occasions. As always, our cases are stocked with hundreds of cheeses and new varieties that align with the seasons to give our customers the best possible selection. Wash down these flavorful cheeses with sips of your favorite wines, whether red, white or sparkling. Enjoy!
Goat Cheese:
The acidic, tangy flavor of fresh cheeses pairs well with a Rosé since their delicate flavors don't compete with each other.
Manchego:
Good matches for this nutty, hard sheep's milk cheese are reds such as a Spanish Rioja, a fruity Merlot or a sweet wine like sherry.
Brie:
This buttery-soft French cheese is an ideal pairing for sparkling wine, a crisp white such as Sauvignon Blanc or a fruity Pinot Noir.
Sargento® Aged Gouda:
Choose a wine that stands up to the slightly intense flavor of the cheese, such as an off-dry Riesling, lighter-oaked Chardonnay or Cabernet Sauvignon.