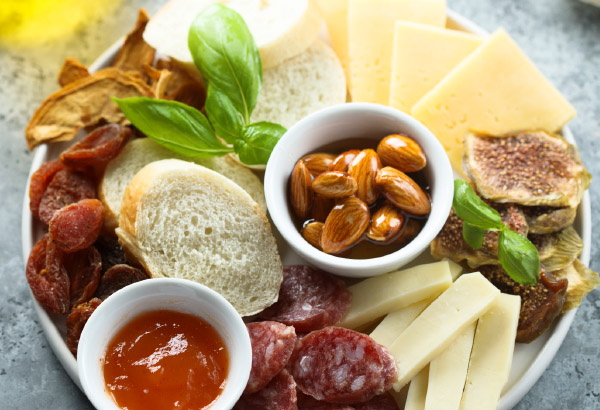 Mini Charcuterie Boards with Big Flavor

This holiday season may be more intimate for most households due to the ongoing pandemic. As you look for ways to scale down your holiday feast, start with a mini charcuterie board! Charcuterie spreads are fun and festive, no matter the size. Lean on this no-cook solution for an easy appetizer that doesn't break the bank and offers palate-pleasing bites for your small gathering.
Meats: Choose your top two or three quality charcuterie meats for your small board. Try meats with contrasting textures like hard salami alongside melt-in-your-mouth prosciutto. Or, pair complementing flavors like mild mortadella and spicy soppressata. Variety packs are ideal for mini boards, as they allow you to cut costs while ensuring guests can try a range of meats – plan for about one to two ounces of meat per person.

Cheeses: Make your spread fun by trying new cheese selections, or stick with a few that have distinguished flavor profiles. For example, incorporate one smoky, one creamy and one stinky cheese to keep your board exciting. Aged Cheddar or Gouda, Boursin and blue cheese are a great trio, as they're inexpensive, have a long shelf life and offer varied flavors and textures.
Spreads: Hummus, jams, preserves, mustards or your favorite dips are all great ingredients for charcuterie spreads, and it's likely you already have some in your fridge or pantry. While one spread is sufficient for a small board, if you want two options, put out a sweet and savory duo like pepper jelly and Dijon mustard.
Accents: Select cost-effective items to accent your mini board or work with what you have! Crackers and baguette slices are inexpensive and make perfect foundations for any charcuterie creation. Layer more flavors with fresh or dried fruit, olives or sliced vegetables you have on hand. Incorporate nuts like almonds, walnuts or pistachios for a crunchy element, or candied nuts for a sweet and festive addition.
Check your local Busch's for affordable, quality charcuterie components to create a smaller spread that cuts costs, reduces waste and tastes delicious!