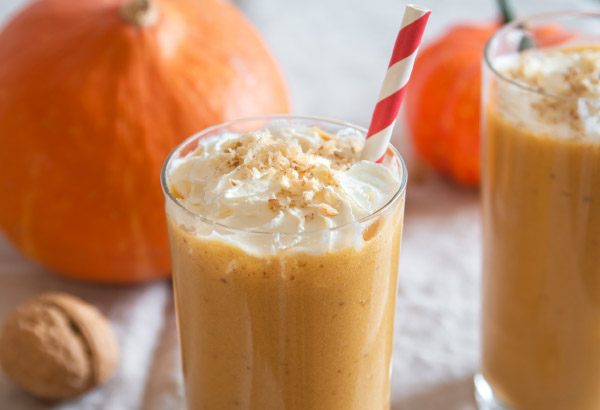 Pump Up the Pumpkin!

When the cold-weather seasons hit, it's time for pumpkin-flavored everything! Pumpkin adds a boost of nutrition and tasty seasonal flavors to countless recipes. Try adding the essence of natural pumpkin to an array of your favorite seasonal treats using our suggestions.
Smoothies: Who says you can't eat dessert for breakfast? A pumpkin pie-flavored smoothie is perfect for satisfying those sweet tooth cravings without the extra calories or the need to turn on the oven. Blend pumpkin purée, banana, almond milk, maple syrup and pumpkin pie spice for a healthier, sweet treat on the go!
Energy Bites: No-bake energy bites make snacking on the go easy and nutritious! To make energizing bites with a touch of fall, combine pumpkin purée with maple syrup, dried cherries, dates, cranberries, quick oats, maple syrup, ground flaxseed, vanilla extract and pumpkin pie spice. Stir until mixture begins to stick together, form into 1-inch balls, then roll lightly in finely chopped pecans.
Parfaits: The perfect morning meal or afterschool snack, parfaits are easy to make, contain a variety of textures and are especially tasty when infused with pumpkin. Make pumpkin parfaits by combining pumpkin purée, maple syrup and cinnamon. Layer pumpkin mixture, Greek yogurt and granola. Top with fresh fruit and dig in!
Oatmeal: High in calcium, fiber and protein, oatmeal is a nutritious meal to enjoy any time of day. Give oatmeal a pumpkin makeover by whisking pumpkin purée with coconut milk, dried cranberries, vanilla extract and pumpkin pie spice. Bring to a simmer, stir in old-fashioned rolled oats and cook until creamy. Enhance the nutrition and savory pumpkin flavor by topping with pepitas (pumpkin seeds).