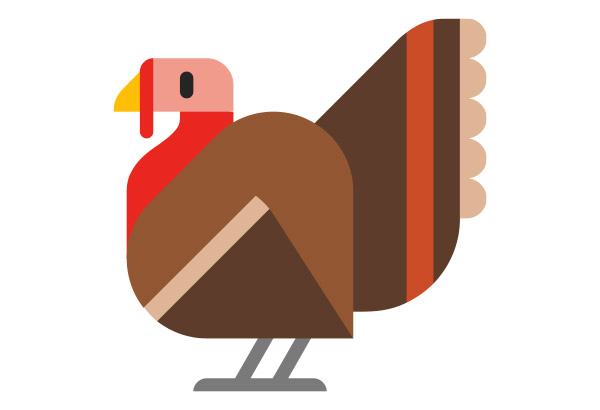 Tasty Turkey Alternatives to Try for a Nontraditional Thanksgiving

Thanksgiving is all about gratitude, quality time with loved ones and gobbling down delicious food. Roasted turkey is the traditional centerpiece of most Thanksgiving tables, but it certainly isn't the only option. Whether you want to delve into different proteins or focus on veg-friendly options, use our suggestions to discover enticing entrées that will add variety to your Thanksgiving menu and make your holiday truly unique.
Chicken: A classic option that doesn't veer too far off from traditional turkey, chicken is easy to prepare and is great for changing things up while still indulging in a tasty Thanksgiving bird. Chicken breasts and thighs create flavorful feasts fit for a few. Sauté chicken in a cast-iron skillet on the stovetop or bake it in the oven on a sheet-pan. To feed a larger crew, make a statement with a whole-roasted, spatchcocked chicken recipe stuffed with garlic and seasonal spices. Spatchcocking chicken involves removing the backbone, resulting in a bird that cooks quickly and evenly with crispy, golden skin.
Ham: Synonymous with the holidays, ham makes a tasty turkey alternative for your holiday table. It's a low-maintenance meat that's easy to prepare, carve and dress up with endless flavor profiles through rubs, glazes and garnishes. For a holiday ham with hints of zest and sweetness, try our Citrus-Molasses Glazed Ham recipe.
Salmon: Seafood makes a mouthwatering main course for Thanksgiving. It's a pescatarian-friendly, nontraditional option that provides an array of health benefits. Salmon is hearty, tender and perfect for featuring spices such as rosemary, thyme and sage reminiscent of traditional Thanksgiving turkey. Spice things up with salmon and serve our Pomegranate & Red Wine-Roasted Salmon recipe (see page 90) featuring a vibrant, sweet sauce with seasonal pomegranates and red wine, a perfect duo to celebrate the holidays.
Veg Out: Are there any vegetarians gathered around your Thanksgiving table? If so, they're likely used to digging into all the beloved sides, but this year, surprise them with a veg-friendly main that will leave everyone asking, "Turkey who?" Serve a meat-free and veggie-packed lasagna or Portobello mushrooms stuffed with traditional savory stuffing. Or, for an international Thanksgiving meal that celebrates other cultures, try an incredibly flavorful cauliflower tikka masala.